DAE has recently completed its annual ESG Risk Review with Sustainalytics, and has received an updated ESG Risk Rating score of 14.6 which was assessed by to be in the 'Low Risk' category.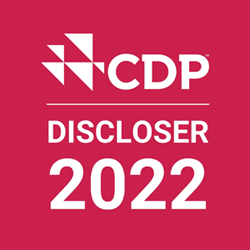 DAE proactively responds to the CDP Climate Change Questionnaire and the S&P Corporate Sustainability Assessment
DAE's Commitment to the Environment
DAE is committed to environmental responsibility. In 2022, DAE's Scope 1 and Scope 2 GHG Emissions amounted to 3,896.1 tCO2e. DAE is working on a number of projects to further reduce these emissions.
DAE Capital has a young fleet with an average age of 6.5 years. In 2022, all of DAE's capital commitments were in new technology aircraft with advanced design features. By investing in these aircraft, which have greater fuel efficiency, lower emissions, a lower noise footprint and we are helping our airline customers reduce their global environmental footprint.
DAE has a comprehensive aircraft end of life strategy. We work directly with our customers and industry partners to recycle end of life aircraft to reduce waste while maximizing the remaining value of the aircraft components and engines. Engines and landing gear from disassembled aircraft are, where possible, utilized elsewhere in the DAE fleet. Alternatively, engines are consigned and sold for disassembly. We encourage our aircraft recycling and dismantling service providers to comply with industry best practice including IATA's Best Practices for Aircraft Decommissioning, and where applicable to obtain AFRA (Aircraft Fleet Recycling Association) accreditation.
In addition, in its premises, DAE encourages a variety of internal environmental initiatives including the use of energy efficient lighting, water conservation and a continued focus on recycling and reducing waste. Furthermore, DAE encourages staff to communicate using the latest conferencing facilities leading to reduced travel between offices.
DAE encourages staff to commute to work using public transport, by foot, or by bicycle where appropriate to do so. In some of our locations, DAE participate in public transport tax incentive schemes.
DAE's People
DAE aims to achieve its vision to be a premier Aircraft Leasing company by executing its mission to deliver Excellence to clients, shareholders, investors and employees through living its values of Excellence, Integrity, Collaboration, Innovation and Agility
DAE's Community Giving
DAE has a diverse, multicultural working environment and encourages its staff to engage in various initiatives to support local charities and to participate in physical and mental well-being activities. We specifically encourage Community Giving activities that have:
a strong connection to DAE
a strong connection to DAE staff, particularly where DAE staff are contributing
a humanitarian perspective
DAE is committed to good corporate governance, which helps us compete more effectively, sustain success, and build long-term shareholder value. DAE is governed by a Board of Directors which is supported by an Audit Committee, both of which meet throughout the year. Governance is a continuing focus at DAE, starting with the Board and extending to management and all employees DAE maintains a robust corporate governance framework via its internal board and committees.
DAE holds all its employees, independent contractors and other stakeholders to the highest standards of business and professional ethics and compliance. All employees and independent contractors are expected to hold themselves to the standards that are set out in our Codes of Conduct. DAE's business standards are governed by a comprehensive suite of compliance documents that ensure DAE's zero tolerance approach to ethical violations resonates though every element of how we do business globally. DAE has a suite of internal policies which set out the DAE approach and procedures on a range of topics including Know Your Customer, Anti Money Laundering, Sanctions Screening, Anti-Corruption, Data Protection, and Data Retention.
DAE employees participate in annual compulsory computer-based training on DAE's Anti-Corruption and Code of Conduct policies.
DAE maintains an independently hosted ethics hotline to enable any concerns to be reported promptly and anonymously. Our hotline can be accessed by clicking here.
Our governance documents can be accessed by clicking here.