Partnership is the engine MRO service provider's first contract with DAE
Abu Dhabi, UAE: 30 April, 2018 – Dubai Aerospace Enterprise (DAE) Ltd. today signed its first maintenance agreement with Turbine Services & Solutions (TS&S), a leading engine maintenance, repair and overhaul (MRO) provider for gas turbines and driven equipment that is wholly owned by Mubadala Investment Company PJSC.
Announced during the Global Aerospace Summit in Abu Dhabi, the contract will enable TS&S to service various engine types within DAE's substantial portfolio, including the Trent 700, GEnx and the V2500 engine — one of which has already been repaired in the Abu Dhabi facility.
The V2500 engine, manufactured by International Aero Engines (IAE), is a turbofan engine that predominantly powers the Airbus A320 family of aircraft and is regarded as one of the most successful commercial jet engines since its entry into service in 1986. Currently, the V2500 engine powers over three thousand aircraft globally, and TS&S decided to become an overhaul facility for the V2500 engine in 2010, following substantial negotiations with IAE. TS&S has since been rapidly increasing its capability and capacity with the engine.
The agreement represents a breakthrough for TS&S, as it marks the company's first major deal covering multiple engine types with a market leading leasing company.
Commenting on the agreement, Mansoor Janahi, Acting Chief Executive Officer at TS&S, said: "This agreement with DAE will enable TS&S to leverage its engine MRO capabilities — an expertise that we have built over the last 30 years. TS&S delivers tailor-made solutions, and we are delighted to offer our services and expand our relationship with a major leasing company. This partnership demonstrates that our country is already realizing its potential in being an advanced, competitive and impactful aerospace hub. We hope this contract is only the beginning, and that we grow our relationship with additional projects in the near future."
Firoz Tarapore, Chief Executive Officer at DAE, said: "DAE is delighted to leverage the huge potential that exists within TS&S and we were extremely satisfied with the services TS&S recently provided to DAE in repairing one of our V2500 engines. We look forward to continuing this successful relationship and to mutually contribute to the ever-expanding synergies that are built between the different aviation related businesses within the UAE".
The engine repair and overhaul operations will continue to take place at TS&S' state-of-the-art facilities in Abu Dhabi, which has been recognized by major engine OEM's as a quality approved overhaul base. TS&S works with OEMs and airlines around the world, including Rolls Royce, GE, Pratt & Whitney, Etihad Airways, Indigo, Sri Lankan and Onur Air.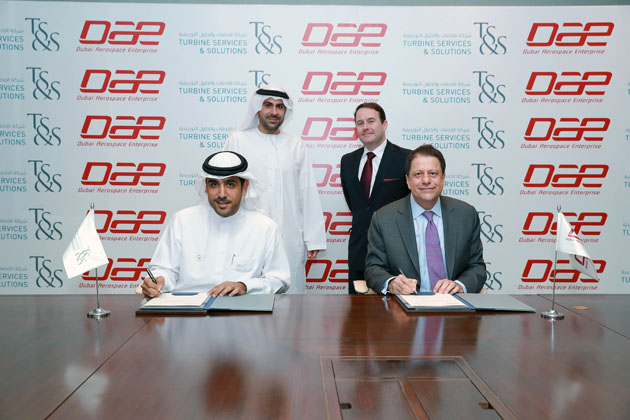 Signing of the agreement, from left to right:  Mansoor Janahi, Acting CEO, TS&S,  Badr AlOlama, Director of Mubadala's Aerospace division, Eoghan O'Driscoll, CTO, DAE, Firoz Tarapore, CEO, DAE.
* ENDS *
About DAE
Dubai Aerospace Enterprise (DAE) Ltd. is a globally recognized aerospace corporation and one of the largest aircraft leasing companies in the world. Headquartered in Dubai, DAE's leasing and engineering divisions serve over 125 airline customers around the world from its seven locations in Dubai, Dublin, Amman, Singapore and the US.
DAE's award-winning leasing division DAE Capital has an owned, managed and committed fleet of nearly 400 Airbus, ATR and Boeing aircraft with a fleet value of US$ 14 billion. More information can be found on the company's web site at www.dubaiaerospace.com.
For further information, please contact:
Alec Elliott +353 87 187 9161 | Arne Bevaart +971 4 428 9591 | press.office@dubaiaerospace.com